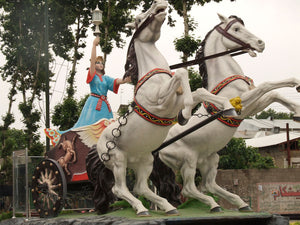 Thus Spoke Anahita (Chapter One: Riya)
Anahita: I am the Angel-Goddess of all the waters upon the earth and the source of the Cosmic ocean; I am she who drives a chariot pulled by four horses: Sirocco, Monsoon, Nimbus, and Sleet; My symbol is the eight-rayed star. I am the source of life, purifying the seed of all men and the wombs of all women, and cleansing the milk in the breasts of all mothers. My connection with life means warriors in battle pray to me for survival and victory.
Now, here and then it was Autumn. In the Northern Latitudes the mornings were cold and wet. Harvest concluded. The deciduous trees fading into brilliant ochers of amber and crimson.
Now, here and then it was Riya. Mother. Mate. Shield-bearing matron of her gemeinschaft. Going to-and-fro within the rooms of her earth and wood walled burdei. Exceedingly harried with preparations for the events to come.
Riya's village was nested atop a small plateau of verdant piedmonts descending from rugged mountains already capped with snow. Below the rumpled green gentle slopes was flat fertile farmland spanning the entire length of a valley.
The dwellings of Riya's village were arranged in concentric circles expanding outwards from a well located in the center. Broad avenues of stone running North, South, East and West divided the village into fourths. Riya's burdei was situated on the outermost ring on the Southeastern edge of the village overlooking the valley below.
---