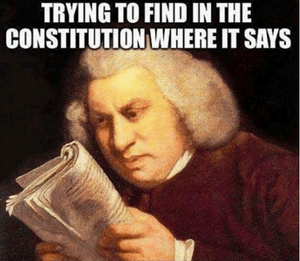 Why write a Constitution?
Why a written constitution?
Some countries have an uncodified or unwritten constitution. The United Kingdom and Canada are two examples. These nations operate by utilizing precedent from case law. The benefits of an unwritten constitution is a nimble legislative process and unfettering of executive power (Constitution Society, 2013). The drawback is the present governing assembly is restrained by the precedent of previous administrations--who may have had different priorities, culture, and practices.
And the LORD said unto Moses, Come up to me into the mount, and be there: and I will give thee tables of stone, and a law, and commandments which I have written; that thou mayest teach them. ~ Exodus 24:12
This passage from Exodus is an illustration of the law being handed down from God. A law and commandments that were literally written in stone. Written words have a mythos and supernatural quality. Words are signs we objectively see on a page and then subjectively comprehend, which Vincent Ferraro and Kathryn C. Palmer expand on:
"The written language can be significantly more precise. Written words can be chosen with greater deliberation and thought, and a written argument can be extraordinarily sophisticated, intricate, and lengthy. These attributes of writing are possible because the pace of involvement is controlled by both the writer and the reader.  The writer can write and rewrite at great length, a span of time which in some cases can be measured in years.  Similarly, the reader can read quickly or slowly or even stop to think about what he or she has just read. More importantly, the reader always has the option of re-reading; even if that option is not exercised, its mere possibility has an effect upon a reader's understanding of a text.  The written word appeals more to a contemplative, deliberative style." (Ferraro & Palmer, 2013)
Ferraro and Palmer's statements are accurate, considering the United States Constitution Convention involved 116 days of deliberate writing and rewriting before a final draft was ratified. We witness how the reader impacts the pace of involvement with each Supreme Court case. The Supreme Court Justices weigh and measure the meaning of words within the vast historical context of the lexicon from the era of the drafting. Other documents, like the Federalist Papers, are used for a historical comparative as well. This creates an almost scientific understanding of the intent of written laws using linguistics. This approach supports a Jeffersonian style of administration, which prefers to restrain executive power and decentralize control.
Whether a society chooses a codified or uncodified constitution does not appear to have a correlation with prosperity for the average person. The difference is whether a nation, an executive, a legislator, or you willfully adhere to tradition and follow the rules.
Vincent Ferraro & Kathryn C. Palmer, 2013, Differences Between Oral and Written Communication. 

Constitution Society, 2013, Has the absence of a written Constitution allowed the UK Executive to become too powerful? 
---